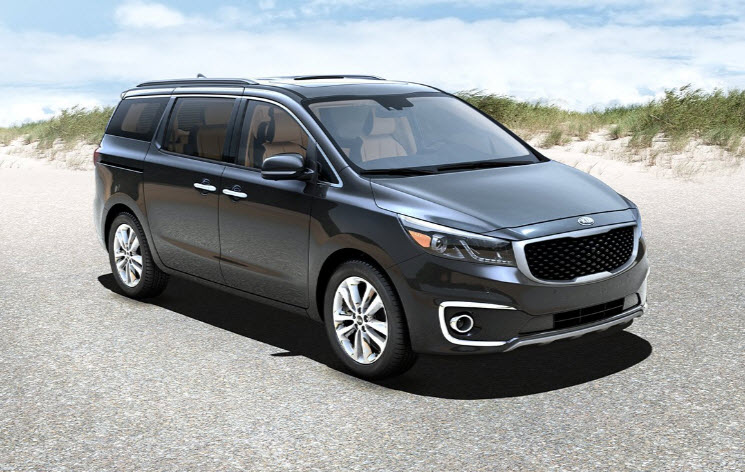 Vehicle Overview
If it's a van you need, the 2017 KIA Sedona for Sale Topeka Kansas has some offers that you simply can't overlook. You'll love this sleek looking van that has an aggressive look to show others on the road you mean business. It's the perfect compromise for those younger families who have a large crew but aren't yet ready to give up the style of some of the smaller vehicles. You'll get plenty of power from the engine, and the cabin gives you all the room you need to move around. The 2017 KIA Sedona is simply one of the best-looking vans out there.
Interior
Comfort and convenience define the interior of the Kia Sedona. You'll enjoy maximum legroom in all positions to give you and your passengers the most comfortable ride possible. You'll love the amazing skylight that helps you get a clearer view of the heavens above, and you'll be able to easily operate the roof using automated controls. Enjoy three comfort zones to keep all your passengers comfortable and at just the right temperature. No more asking your passengers in the back if they are warm or cool enough, they will be able to get the exact specifications for their liking. If you're looking for a Sedona for sale, it's important to realize that not all sales offers are the same. The best price may not come with all the features you want and need for a vehicle that is truly capable of helping you to get the best deal. When it comes time for you to visit your Topeka KIA dealership, you can trust that we will help you get the right vehicle for you.
Exterior
Body colored mirrors, power-folding outside mirrors that are able to heat up in cold weather to give you a clear view of the road behind you are just a few of the reasons why this vehicle is exceptional. You'll also enjoy chrome exterior door handles and solar control glass to keep the heat outside your vehicle. The sound-absorbing windshield is capable of helping you to enjoy a quiet and soothing drive. Privacy glass helps to prevent prying eyes from looking inside your vehicle, and the dual power sliding doors will help you enjoy a new dimension of convenience. Most vans have a dated look, but the 2017 KIA Sedona for Sale Topeka Kansas offers a much more streamlined, aerodynamic and exciting style that is built for speed. You'll love the way the 2017 KIA Sedona gives you a more enjoyable driving experience. The shape of the vehicle actually helps to reduce external noise, and you'll be able to enjoy a long-lasting and durable vehicle that looks great.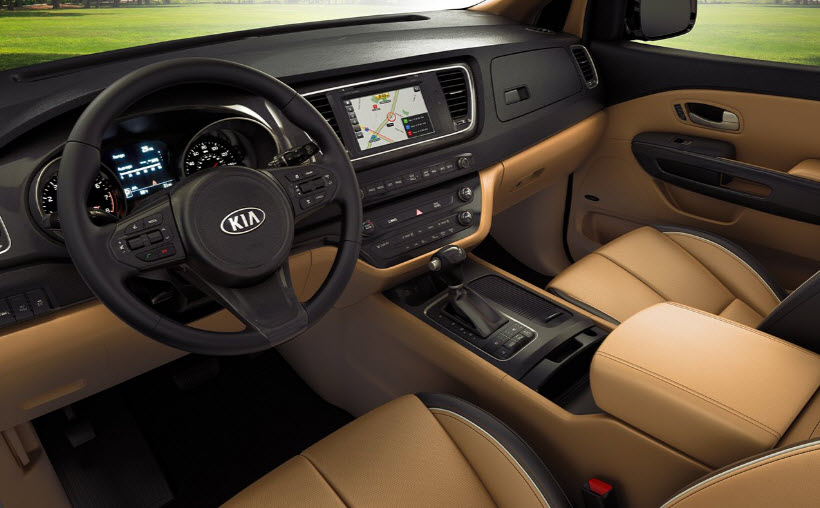 Mechanical
Four-wheel disc brakes offer exceptional stopping power, and you'll also love the six-speed transmission that gives you a smooth and comfortable acceleration. The van uses an efficient front-wheel-drive technology so you can enjoy a smooth and steady driving experience. The steel unibody design will help you to get the best possible construction and you'll love the front and rear suspension that use gas shock absorbers and an independent multi-link suspension. If you're looking for a Sedona for sale, you'll want to come down and check out the trims and capabilities of our vehicles at your Topeka KIA dealership. This is one of the best KIA options if you're looking for a capable van for sale. Come down and see Briggs KIA for the best possible deals.
Powertrain
The engine in your vehicle helps to power you through the day, and you'll be able to enjoy a 3.3L V6 engine that is capable of outputting 276 horsepower and 248 pound-feet of torque. The 2017 KIA Sedona for Sale Topeka Kansas offers that we currently have going will help you to get more power from your 2017 KIA Sedona. You'll love how the KIA is able to give you more power in a design that looks like it's ready for action. This is easily the most athletic van for sale that we have at Briggs KIA. With an effective engine, you'll be able to enjoy the greatest power and control while ensuring that you maintain an efficient and stable driving experience.
Safety
Dual front airbags and seat-mounted side airbags are complemented by a full-length curtain airbag system to provide you with the best possible protection. The vehicle also offers rollover mitigation to help keep your vehicle upright, and you'll enjoy front seat-belt tensioners to ensure the perfect fit with your seatbelt. When it comes to stability, the vehicle stability management system gives you exceptional control. Additional support is provided through the cornering brake control system that helps you stay glued to the road on sharp turns. A brake assist system, hill start assist, and a tire-pressure monitoring system also help give you additional stability. Come down and see our Sedona for sale options and you'll be able to get the best possible deals from our Topeka KIA dealership. When it comes time to take your family on the next vacation, you can rest easy knowing that the vehicle will keep everyone safe.
Come down to our dealership or give us a call so that we can talk with you about your options. The Sedona is a popular van for sale at our Briggs KIA dealership. We can offer you some great deals and special offers to ensure you drive away with a great deal.